stopsmokingherbs.com

The Acu-Eight Hui Converging Acupoint #3 -TE(SJ)5 (Waiguan)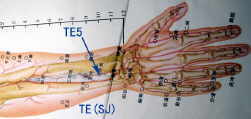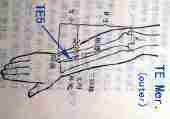 (Click on it to see a large picture)
CHINESE NAME of Acupuncture point
Waiguan, Wai means lateral; guan means pass. The point is at the vital site on the lateral aspect of the forearm, like a pass.
LOCATION of Acupuncture point TE5:
2 inches up to wrist bracelet, 0.5 - 1.0 deep. The point is between 2 bones.
INDICATION of Acupuncture point TE5:
Headache, fever, deafness, ear ringing, eye infection, hypochondria pain (pain in the lateral aspect of chest), upper back pain, pain in shoulder, arthritis, pain in fingers, finger thrill etc.
HINT for All Acupoints:
You should feel sour or numb, but Not knife-cut like pain when pressing. The acupoints are usually between or beside the bones and tendons or ligaments, on a depression, never on the bones or blood vessels.
MERIDIANS CODES: L=Lung, LI=Large Intestine, S=Stomach, Sp=Spleen, H=Heart, SI=Small Intestine, B=Bladder, K=Kidney, P=Pericardium, TE(SJ)=Triple Energizer (Sanjiao), G=Gallbladder, Liv=Liver;
8-HUI ACUPOINT CODES: 1=B62(Shenmai), 2,5=K6(Zhaohai), 3=TE(SJ)5(Waiguan), 4=G41(Foot-Linqi), 6=Sp4(Gongsun), 7=SI3(Houxi), 8=P6(Neiguan), 9=L7(Lieque)
Two ways make acupuncture easy for you:
1. Learn just 4 pairs of 8-Hui acupoints and use our Chrono acupuncture calendar;
2. Use Haci Acupressure Cupping Set (Supervised by China Acupuncture and Moxibustion Institute) instead of needles to do acupuncture: the suction cups with Acu-magnet tablet head work for the points of your body just like the acupuncture needles worked for the points and meridians.