New Year's or New Life's Resolution, the Best Gift is Your Health!

Now Quiting Smoking is easier than you ever could have imagined. You can still light up a cigarettes but the taste of cigarettes would be changed after smelling the herbal aroma. It's no taste or tastes no good anymore!
中草药戒烟
戒烟宁闻剂
Patent Chinese Herbal Formula

Smoker's Herbal Aroma Nasal Inhaler

This is our most stronger product to help you quit. Most smokers just need one bottle of the Herbal Inhaler to quit completely! The bottle is 3/5-1/2 full — 3 ml herbal extract aroma liquid in a 5-6 ml inhaler Amber bottle, to guarantee you just SMELL the aroma, not inhale or sniff the liquid. You don't need to open the stopper, just open the cap and smell directly. One bottle lasts about 1-2 weeks. One bottle is usually enough for one smoker to quit.
Click for Ingredients, Testing & Certification, Credentials, Testimonials;
$29.99
For English Instructions; For Chinese Instructions 中文
Our 5x security: 1. SSL Secure Server, authorized Shipping Cart with VERIFIED SECURE SEAL; 2. Your credit card is NOT charged automatically. It's never charged before security checking by Our human staffs. Our Offline Payment Processing is more safe for you; 3. Guarantee to delete your credit card # from our computers; 4. 30 days Money-Back Guarantee (Read detail on Shopping Cart); 5. Enter your email address on order form and we'll email a Tracking No. for Delivery Confirmation of your package.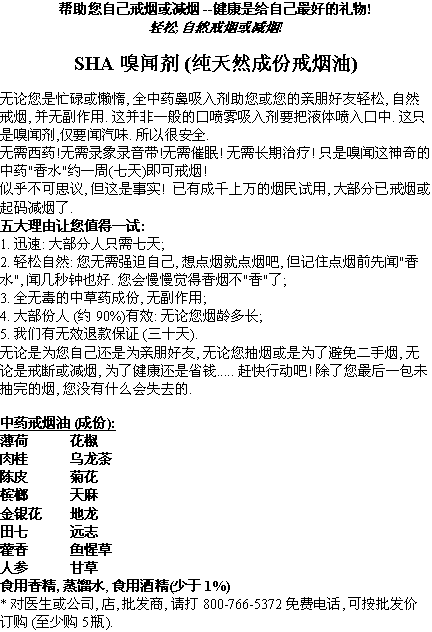 It has been a year since I have ordered from you and I am still not smoking. I ordered the inhaler and smokeless cigarettes. I thank you over and over again as I have tried many products that have failed. Your products have changed my life and given life back to me!

---Gamblingrannie, MO

I lost the desire for smoking almost immediately. Later, when I occasionally would smoke, it had no taste and wasn't pleasant to smoke. After 3 days, whenever I wanted to smoke I would smell the aroma from the bottle and lose the desire.

---Robert F., Newmanstown, PA
Our Smoker's Herbal Aroma Nasal Inhaler (stop smoking herbs) is introduced in a popular book, ISBN 1-57954-134-8, The Herbal Drugstore by Dr. Linda B White, M.D. and Steven Foster, authority of natural health, herbs. Smoker's Herbal Aroma (stop smoking herbs) has benefits for both Smokers (to quit) and Non-smokers (to avoid Passive Smoking). To quit smoking now, try our natural Smoker's Herbal Aroma Inhaler.

中草药戒烟 Quit Smoking Herbal Products Wholesales: Save up to 50% for Health Professionals!

PHYSICIAN SURVEY for Smoker's Herbal Aroma to quit smoking in the US
A survey was done in September, 1994 to 28 health professionals in the US, including 3 Medical Doctor (MD), 3 Chiropractors (D.C.), 9 Oriental Medical Doctors and 13 Acupuncturists. They used Smoker's Herbal Aroma inhaler (stop smoking herbs) to help 474 smokers of their smoking patients to stop smoking and found that: 61% of them were very effective or highly effective, 38% were somewhat effective (i.e. 99% were effective in total) and 96% of them reported no any side effects after quitting.

Our herbal formulas are approved by Chinese government and have been used for many years by thousands of smokers in Asia before imported into the US. Dr. Wu, a Chinese Medical Doctor and herbalist, checks all herbal ingredients carefully to make sure without any toxic herbal contents. You can also check all herbs one by one in the ingredients by yourself.

Stop Smoking Now, for your health, for your family, for saving money, for the whole world and for the New Year's or Your New Life Solution!