New Year's or New Life's Resolution, the Best Gift is Your Health!
We help smokers Quick Smoking since 1992, the Natural & Easy Way!
肉桂

Stop Smoking Herb 4

Cinnamon Bark

in Smoker's Herbal Aroma inhaler and in Anti-Smoking Herbal Patch
Other Names of Cinnamon Bark: Cinnamomum Cassia Presl., Cortex Cinnamomi, Rou Gui, Gui Pi, Jou-Kuei.

Used Part, Taste and Property: Bark, twig or ramous; One of the common spicy food sold in grocery store; Pungent, sweet, and very hot, non-toxic.

Common Use in Chinese Herbal Formulas: Chronic diarrhea due to cold; abdominal pain due to cold. Used in Patent Formulas of Gui Ling Wan, Ba Wei Di Huang Wan, Shi Quan Da Bu Wan, Yang He Tang and many tonic formulas for Yang deficiency and this herbal quitting formula.

Main Chemical Components: Cinnamon oil, mucilage, starch, sucrose, etc.
Our Smoker's Herbal Aroma Nasal Inhaler (stop smoking herbs) is introduced in a popular book, ISBN 1-57954-134-8, The Herbal Drugstore by Dr. Linda B White, M.D. and Steven Foster, authority of natural health, herbs. Smoker's Herbal Aroma (stop smoking herbs) has benefits for both Smokers (to quit) and Non-smokers (to avoid Passive Smoking). To quit smoking now, try our natural Smoker's Herbal Aroma Inhaler.
中草药戒烟 Quit Smoking Herbal Products Wholesales: Save up to 50% for Health Professionals!
| | |
| --- | --- |
| Natural herbal aroma oil from 16 herbs | 100% Natural TCM skin therapy |
| 戒烟宁闻剂 3 ml/bottle $29.99 | 中药戒烟贴 30 patches/box $9.99 |
| Smoker's Herbal Aroma Inhaler | Anti-Smoke Herbal Patches |
| | |
| | |
Our 5x security: 1. SSL Secure Server, authorized Shipping Cart with VERIFIED SECURE SEAL; 2. Your credit card is NOT charged automatically. It's never charged before security checking by Our human staffs. Our Offline Payment Processing is more safe for you; 3. Guarantee to delete your credit card # from our computers; 4. 30 days Money-Back Guarantee (Read detail on Shopping Cart); 5. Enter your email address on order form and we'll email a Tracking No. for Delivery Confirmation of your package.
Yes, it's hard to believe, but true. There are nothing to "swallow", no needles. Just put one small patch on a new acupoint on your hand once a day and you will quit or cut down on cigarettes smoked in 1-2 weeks.
Advantages:
1 .Targeted therapy: Acting under the skin directly onto acupuncture meridians (part of the sensitive nervous system), it lowers the dependence to nicotine.
2. Safety and without side effects: The active ingredients are extracted from natural Chinese herbs without any artificial materials and unhealthy contents.
3 Two-ways regulation: The effective herbal contents may reduce the intake of nicotine and decompose nicotine existed in the body at the same time.
4. Convenience to use: Just simply stick a patch on the acupoint of one hand.
Testing & Certification of Anti-Smoke Herbal Patch
1. REGISTRATION CERTIFICATE FOR MEDICAL DEVICE: THE HEILONGJIANG PROVINCE FOOD AND DRUG ADMINISTRATION --2013 No. 2260057, P. R. China.
2. CERTIFICATE OF ASSAY: Hei Long Jiang Provincial Public Health Assay Center, Number of Delivery BJ130720
Results of Assay: Usnic acid (-), Methylphenidate (-), Mazindol (-), Phentermine (-), Amphentamine (-), Methylamphentamine (-), Fenfluramine (-), Orlistat (-), Chlorbenzorex (-), Liothyronine (-), Thyroxine (-), Di-Iodo-Thyroxine (-), Diethylpropion (-), Yohimbine (-).
All are Negative; (-). None toxic elements are found from Assay Results. It is conforming to Criterion of Q/HTY01-2001 of P. R. China.
3. Certificate and Approval from Germany
Where Is Tianmei (Tim-Mee) Acupoints?
Tianmei point is a new acupoint found by Chinese doctors and used for stop smoking. It is not in traditional meridians and located at the soft concave just between L7 (Lieque) and LI 5 (Yangxi) acupoints, felt sensitive when pressing. Don't worry if you don't know what are L7 and LI 5 points, just see the picture below and you will find the location easily.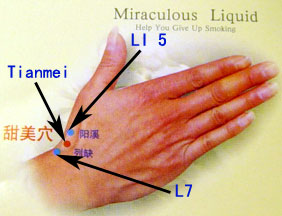 Disclaimer: Traditional Chinese Herbal Formulas have been used for centuries and knowledge of their special properties has been collected throughout many ages. But we don't recommend use of herbs as a complete substitute for regular diagnosis or medical care which you should ask your medical doctors.